Phew!!!! Life is back to normal. It is rather boring after the activity filled previous week. The weather is not supportive either. It has been a dark and gloomy day and has been drizzling on and off.
I have done nothing much other than calling all my relatives wishing them "Bijoya Greeting". Needless to say that that some of those that I call are people that I haven't spoken in a while and hence lots of catching up to do…
Now I am already looking forward to Kali Pujo (Diwali ). This is by far the best couple of months for the bong's. Its all about food and making merry.
Talking about food, mustard is one ingredient that is part of a bong DNA. There are a lot of dishes that is cooked with Mustard sauce and of course mustard oil is the basic oil that is used in Bengali cooking. But I must confess that though I love food cooked with mustard sauce, I can't palate an entire meal cooked in mustard oil.
Shorshe Shojne is a traditional Bengali dish wherein drumsticks are cooked in mustard sauce. And this is one of my favorite dishes.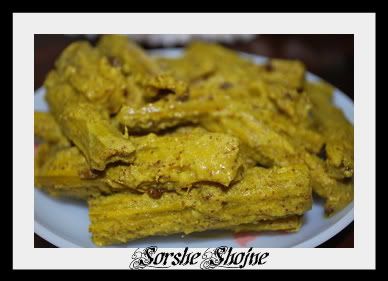 You need the Following:-

Drumsticks (Moringa) – 6 to 7 . Cut to a 3" piece each.
Mustard: - 2 Tb Sp. Soak in a little water for 15 to 20 minutes.
Onion: - 1 Medium sized
Salt: - As per taste
Haldi (Turmeric) Pd: - ½ tbsp
Fenugreek Seeds (Methi ) :- ½ TbSp
Green Chili: - 1 or 2 (Depending on your taste)
Oil :- 3 tbsp ( Traditionally cooked with mustard oil but you can use any other cooking oil as well )
Cooking Method:-

Grind the mustard and onion with very little water. The constituency should be that of a thick paste.
Heat 1 tbsp of Oil is a wok / Kadai fry the drumsticks for about 5 minutes. Keep aside.
Heat oil and add Methi Seeds once the oil is hot. Add slit green chilies and fry for a minute.
Add the ground mustard & Onion Paste and continue frying.
Add Turmeric Pd, followed by the salt. Fry for a couple of minutes.
Add the drumsticks and mix it well with the mustard gravy.

Add half a cup of water in case the gravy is sticking to the pan.

Cook till the water evaporates.

This dish goes well with white steamed rice.